On any given weekday, the children in the Saskatoon Forest School will spend most of their school hours outdoors - exploring their community, local woodlands, green spaces, natural playgrounds & outdoor classrooms along & around the South Saskatchewan River, acknowledged as the Treaty 6 Territory.

Our educators utilize emergent, experiential, inquiry-based, play-based, and land-based learning approaches to facilitate learning that touches on all 7 areas of the curriculum & disciplines. In any given moment, a child-led experience can cut across math, science, social studies, art, literature, physical education, and more! The learning outcomes are based on real-time explorations and experiences, rather than pre-determined concepts in books or on screens.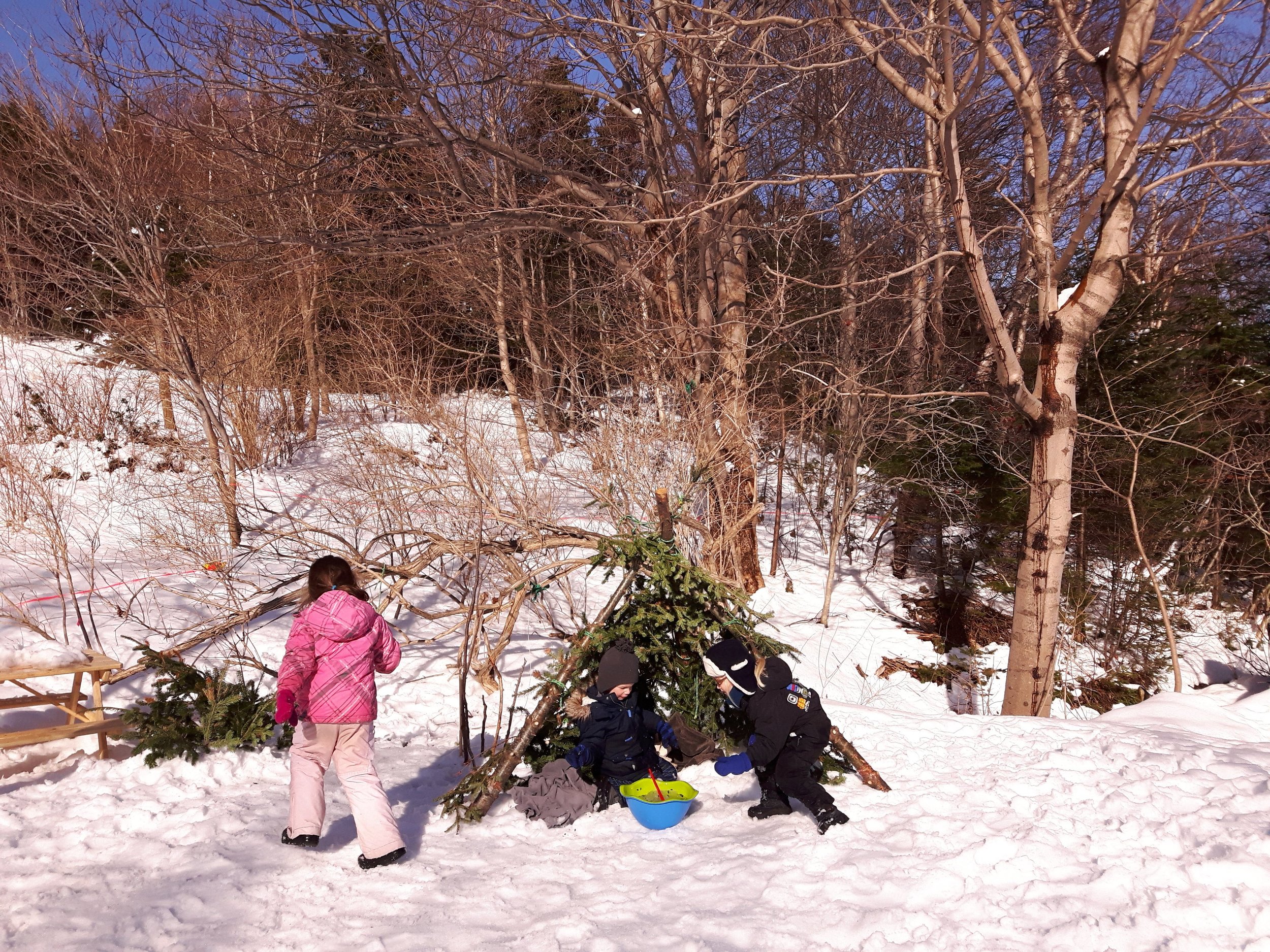 Yes, we can forest school in the winter too!
Children are adaptable and resilient - we need to remember this. Our northern climate does pose a challenge to the safety of children being outside for extended periods of time during extreme cold snaps, but that is why we have a neighbourhood indoor space to warm up, have snacks / naps, regroup, and continue our learning from our outside time!
Our Forest School program helps to support children to identify, co-manage, and navigate risk. The opportunity to experience risk is an integral part of learning and healthy child development. Naturally, the safety of our children is of utmost importance to us, but we believe that a child learns best in in the real world - through the soles of their feet, the palms of their hands, and the seat of their pants. Peer-to-peer learning, loose parts & natural materials, and imaginative play are the building blocks of the Forest School model to support open-ended experiences guided by curiosity - the way children are wired to learn. Find out more about the Forest School Model here.

Learning in & from nature
Wild Sky Adventure Learning's Forest School program is centred on observation of nature and trying to learn the valuable lessons that the plants, animals, insects, weather, and other natural systems can teach us. The profound understanding that we are nature, and thus we must observe and learn from ourselves is nurtured in the Forest School "classroom".
We believe that…
Every child is unique with individual strengths and competencies.

A child is a child first and they have a right to outdoor play and exploration.

The Seven Grandfather Teachings (honesty, humility, respect, bravery, wisdom, truth, and love)

The balanced child is composed of an emotional, physical, spiritual, and intellectual self.

Nature- Deficit Disorder is a real thing.

No aspect of a child's or adult's identity, be it gender, race, ethnicity, disability, religion, socio-economic class, or any other aspect is ever an acceptable reason for exclusion or teasing.

Children are experiential learners and we strive to provide safe risk taking outside.

Children are competent, capable learners that deserve to be treated with respect.

Nature is our teacher, grocery store and doctor.

Healing begins with understanding the land and ecosystems around us.
Meet Andrew - the Saskatoon
forest school leader
I am passionate about early learning & nature. I am currently the lead programmer for both the Wild Sky Forest Kids Summer Camps and the Saskatoon Forest School!
My Journey began about 15 years ago when I enrolled into the early childhood program at Georgian College. I have since worked in the field of Early Learning for 13 years and in 4 different provinces. I have run nursery programs, summer camps, and most recently, was an intern director for Preston Early Learning in Saskatoon. During this time, I have attended and soaked in many different workshops, conferences, wilderness first aid classes, and professional development programs in the field of early childhood education and land based learning. Even as an adult, the learning never ends. Most recently, I obtained my Forest School Practitioner Certificate from the Child & Nature Alliance of Canada. I'm looking forward to continuing to grow the community of land-based learning for early years in Saskatchewan with lots of play and adventure along the way.
Logistics & Enrolment Information
Hours of Operation
Forest School
Runs September to June on Regular School Calendar Days.

Group A: Weekday Mornings 9am - 12pm

Group B: Weekday Afternoons 1pm - 4pm A

CLOSED: Statutory holidays and weekends, Christmas vacation and first week of July and August.

Explorer Camps
Runs on many of the regular school systems 'No School' Days as well as during 'School Break' weeks

9:00 a.m. to 5:00 p.m.

See our Explorer Camps Page for more info about upcoming Explorer Camps
Admission Policy
Ages 3 to 6 are accepted.

A meeting with the guardian/parent & attendance at a "Parents Night" is requested.

The emergency card and child information forms must be completed and on file.

Registration fee is the first month's payment in advance, non-refundable.

Being toilet-trained is a MUST.
Payment of Fees
Payments will be accepted on the first day of the month and can be payed by direct-deposit or email transfer. We do not accept CASH or CHEQUES.
Cost is $500.00 for the month
Volunteer hours help cut down the cost of your bill, ask us how!
No reimbursement for days your child is absent or for statutory holidays.
Late payment fee of $20.00 per week will be added after the first week of each month.
Failure to provide payment by the end of the month will result in termination of the contract and the child's spot being given to the next family on the waiting list.

Important! Please refer to our Parent Resources page. There you will find our complete enrolment package including our Parent Handbook and all mandatory forms for enrolling your child in the Saskatoon Forest School.

Get In Touch! We're looking forward to hearing from you!
Interested in the Saskatoon Forest School? Questions? Wanna register? Drop Us A Line!