Forest Kids Camp
Monday July 1st - Friday, July 5th Monday, August 5th - Friday, August 9th
This is our second year offering an ecological summer camp for kids at Ness Creek - on the land, under the sky, and in the forest! Bring your children for a week of exploration with our highly qualified & amazingly talented Camp Leader, who will instil a sense of wonder & discovery for nature while learning valuable bush craft skills! Both our July and August camps are open to children aged 3 - 13 years old.
Our July Forest Kids Camp is a day camp only - this means that parents must stay on site during the week and are responsible for their children in the evenings, except for the first evening when we have indigenous storytelling around the fire. It's like family camping but with the added bonus of day time programming for the kids so you can take it easy, go fishing, catch up on reading, and rest! And then the evenings offer many fun activities for the family to enjoy together. This

Our August Forest Kids Camp is also a day camp with optional overnight camping chaperoned by one of the amazing camp moms from the Wild Sky Learning board! Kids must be 9+ to take part in the overnight camping option. This gives parents of children 9+ with the option of a traditional summer camp where you do not have to be in attendance for the duration of the week. Kids will need to have appropriate camping gear (tent, sleeping bag, etc.) to take part. The 2019 August Camp is NOW FULL! Please send us an email to get on our wait list!
Take A Look At All The Fun We Had Last Year in the Vid Below…

Forest Kids Camp Programming
Our day camp for kids is packed with awesome programming & fantastic children's learning in the incredible boreal forest. Some of the weeks activities are:
Indigenous Storytelling

Forest Treasure Hunt

Tiny Woodworking

Bird Watching

Ecological Gardening & Plant Identification

Exploring the nature around us.

Shelter Building

Learn How to Use an Axe and a Compass

Arts and Crafts

Team Activities & Games
CAMP SCHEDULE
Each day at camp will be different and engage all the children's senses in varying activities, a sample day may look like this!
Morning Group/Circle time – Group check- in, refreshing names, building comfort & trust within the group.
Sit Spots – Children will be asked to find their very own spot in the forest (within the bounds they created). This is a time for quiet contemplation, to discover what interests them, or to be alone in their thoughts. Approx. 15 minutes long. The group will convene after "Sit Spots" to discuss what they discovered.
Forest treasure hunt – Children will be given their own plant identification cards and asked to explore our bounds to find these hiding forest treasures. Who knows, maybe we will find a Gnome or two?
Transient art – Children will be using a combination of found forest treasures and mud/soil, sticks, and rocks to create this art project. The best part about this project is that it stays in the forest and not in your car.
Afternoon Group/Circle time – Children will meet back at our chosen meeting spot after lunch for circle/group time. A review of the boundary, risk taking guide lines/ risk assessment and any other comments/concerns/ questions or discussions can happen at this point.
Special Program – Children will take part in a special program with Andrew and additional facilitator
Free play – Children will be able to explore the bounds we have created. Maybe a new bug caught their eye, or a fallen tree needs to be climbed. Let's see what those kids can do and give them the freedom to do it!
End of the Day circle – Time to clean up, put those rocks back, and hide that favourite stick for tomorrow. We will end with a chat and a song.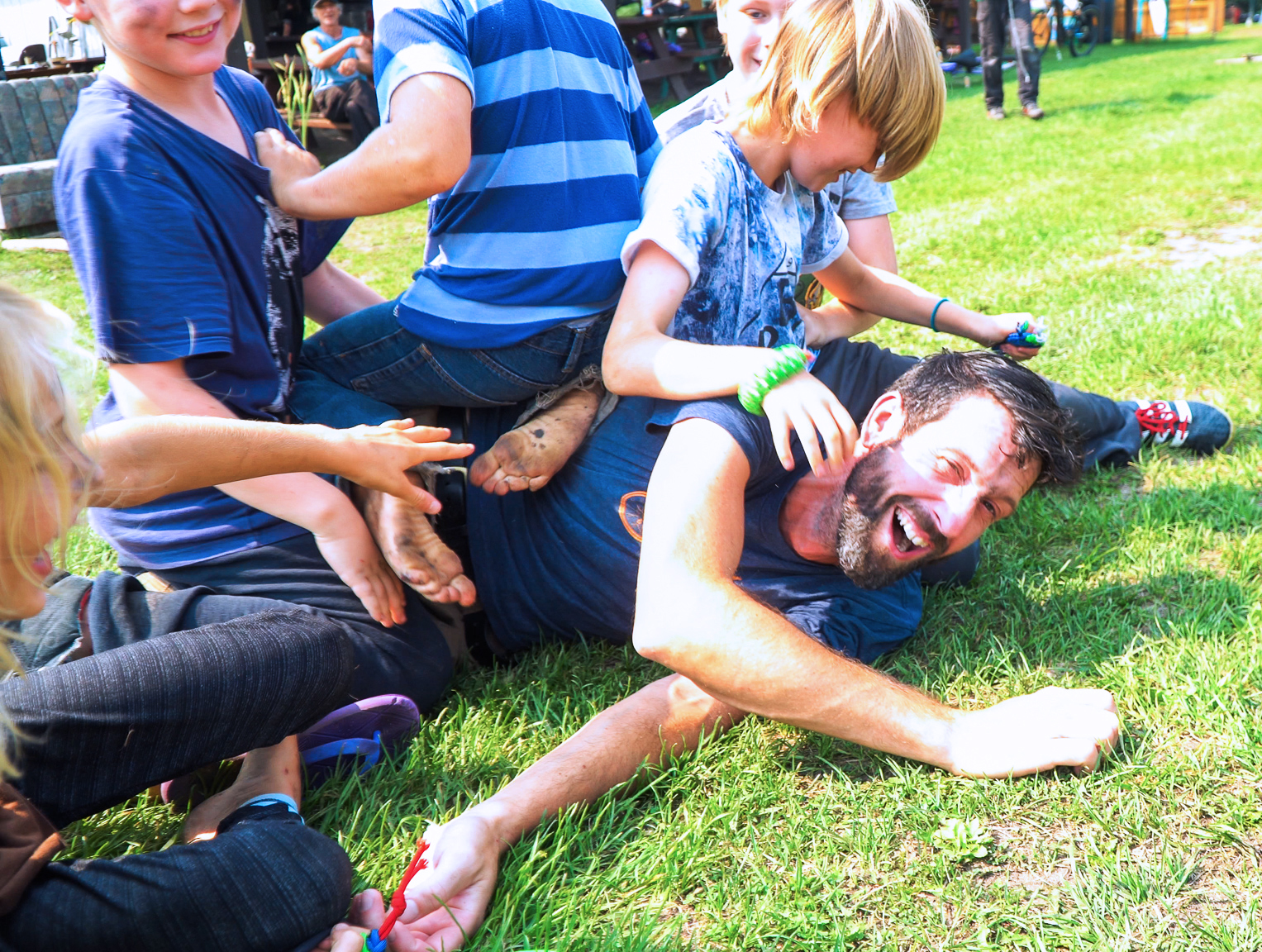 Meet our Forest kids camp leader - Andrew
This is Andrew underneath our 2018 Forest Kids Camp Crew… He is passionate about learning in nature. He has over 15 years of experience, high-calibre qualifications, and an engaging & fun approach that children love. You can find out more about him over on our About Us page!
Pricing
Choose the meal & accommodation options that work best for your family!

Camp Registration
$250 for the week per child, or $70 for one day per child.
$550 for the week per child, including full meals.
Camping
Non-powered Camping - $100 per family
Powered Camping - $120 per family

Cabin Accommodation
Ness Creek has family-friendly bunk-style canvas cottages that keep you up off the ground, warm & dry. There are quaint but rustic powered cabins. More information about cabins can be found here, and all cabin accommodation must be booked seperately by emailing nesscorerentals@gmail.com.

Meals
Families can decide to cook for themselves at their campsite or camper. Or in the shared Cantina kitchen - which is fully-equipped kitchen and has food storage & refrigerator space. Another option is purchase meals from our on-site caterer Wanda.

Cost of Meals
Monday Supper - Friday Lunch (12 meals, all prices include tax)
Adult: $181
7 - 12 year olds: $138
1 - 6 year olds: $93
Why not make it a week of learning & creativity for the whole family?
While the kids are discovering nature in the boreal forest, discover your inner artist at forestART!! Both of our camps are held concurrently to forestART Adult Art Courses at Ness Creek. This way, Mom & Dad can take take a course in artist mediums such as painting or blacksmithing, while the kids are in forest kids camp. Everyone meets up together for meals & relaxed evenings around the fire or at the lake! More on this below!
Registration
It's easy to register your child for the Wild Sky Adventure Learning Forest Kids Camp!
It's a fillable PDF, you can fill it out on your computer, print it, sign it, & email it to us - wildskylearning@gmail.com

We'll email you with confirmation & an invoice.

Etransfer or send cheque to complete payment & finalize registration.

Get In Touch! Send us a message below, it'll come directly to our email, and we'll respond soon!